For ALL of your spa needs!
D Spa Man offers a variety of services to its customers. We sell Cal Spa parts and spa covers nationwide. We also offer spa repair in Southern California. Our company is known for it's top quality customer service and our reasonable prices. Please feel free to call us if you have any questions regarding spa parts, repairs, used or new spas, or if you are interested in purchasing any products for your spa. All spa cover orders must be generated by phone to ensure that you get the proper size and shape for your spa.
Best of Riverside 2011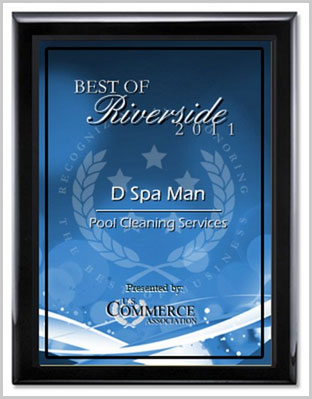 Best of Riverside 2014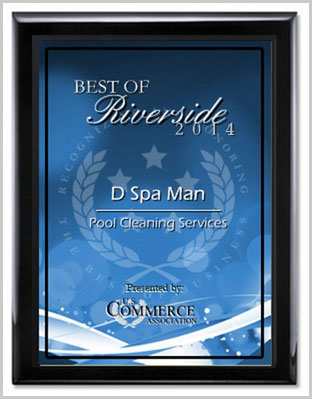 I am pleased to announce that D Spa Man has been selected for the 2011 Best of Riverside Award in the Pool Cleaning Services category by the US Commerce Association (USCA).
I'm sure that your selection as a 2011 Award Winner is a reflection of the hard work of not only yourself, but of many people that have supported your business and contributed to the subsequent success of your organization. Congratulations on your selection to such an elite group of small businesses.
Call D Spa Man in Riverside (909) 457-8449